---
---
Relaxy™ - The Smart Neck Massager
STOP punishing your neck !
 ✔ Instant neck pаіn relief in just 15 minutes 
✔ Improve posture after sitting for long durations
✔ Relieves migraines and promote blood circulation 
✔ Effective against pinched nerves,muscle strain,neck stiffness and spasms
✔ Relax anytime anywhere
You've got a lot of pain and soreness..
Relax with our amazing  Relaxy™ Neck Massager that will instantly reduce your neck/shoulder stress.  It uses low-frequency TENS pulse principle to stimulate three amazing massage techniques 
♨ Activated Advanced Heating System
✈ Portable and lightweight
✔ Ergonomic "L" shape design 
⧚ Low-frequency TENS pulse 
✿ Easy to use, easy to get started
☞ Relieves pressure in neck & shoulders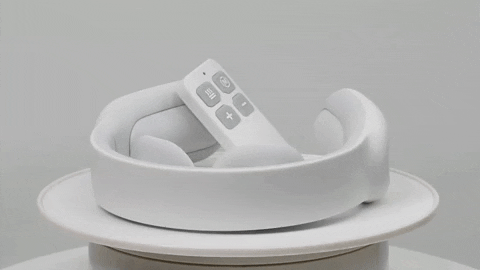 Relieves pressure after a long day
Relaxy is a massage device that provides you relief like you've never seen before.  You'll instantly feel relief in your neck and shoulders as this device was designed to reduce tension in your muscles using our special TENS pulse technology.
This device is more than just talk.   It can stimulate real human massage that promotes healthy blood circulation, relieves neck/shoulder pain, and activate tissue cells.  You will truly be on your way to a healthier style of living plus ultimate relaxation.
Convenient.  Effortless. Anytime. Anywhere.
•  Noticeably reduce neck and shoulder pain with three modes of operation and fifteen adjustable levels of power
• Great for stress management and relaxation, for when you're able to take a moment for yourself
• High quality build and portable form allow for every day use at home, work, or while traveling 
Three Diverse & Powerful Modes
Relaxy™ has three amazing modes that use the power of our TENS pulse technology.  Each mode was designed to help you relieve stress in a different way by focusing on certain massage methods to reduce tension in all different spots in your neck and shoulder.
✔ Auto Mode (Mode1)
✔ Kneading Pattern (Mode2)
✔ Vibration Mode (Mode3)
Activated Advanced Heating System
Nobody likes the feeling of coldness on the back of your neck. Relaxy™ delivers soothing heat which will accurately control to 120°F in 3 seconds.  It's basically instant heat!
✔ Warms up to 120°F in 3 second
✔ Wireless remote to adjust pressure, heat and mode
✔ Warm plates reduce muscle fatigue and stress
Universal Fit + Easy to Use
The neck brace is designed to easily fit anyone's neck so you don't have to worry about fitment.  It will easily adjust to a comfortable position that will let you use it in all types of places, including the gym, at work, at home etc.
Our Guarantee
Here at Modern Treasures, we are working every single day in order to offer our loyal customers the best products in the entire market.
Our website is totally designed for fast and secure ordering. Each customer benefits of our Buyer Protection and each order comes with its own Tracking Number.
Our checkout it's using secure socket layer technology (SSL Enabled) and it's trusted by all major web browsers. When checking out, all of your payment information is kept safe and secure.
First time on our website? We would love to have you part of our family. Here's what you are getting:
 Hand-picked Good Quality Items

 60-Day Risk-Free Buyer Protection

 Logistics/Tracking Numbers

 Lowest Price While Keeping The Quality

 100% Secure Checkout (SSL Enabled)

 Easy Returns & Exchanges
---